What's your #1 challenge that's stopped you from driving more visitors to your custom website?
For an entrepreneur having a Custom Website that looks like a brochure is necessary in 2022?
Absolutely! Optimized website has always been incredibly important, but now that entrepreneur rates have risen over 30% since the pandemic, having strategic customer journey of web pages with push notifications, Email opt-ins, social icons and Facebook pixel to boost your brand awareness is more important than ever.
Website optimization is quickly becoming a must-have for small businesses.  Here is the in-depth guide to see how we can improve the visibility.
Avoid Black Hat SEO
What are the some black hat SEO practices to avoid penalty from Google?
For all the beginners of SEO out there, the risky ways of doing SEO the black hat SEO techniques refer to practices that are used to get high levels in an unethical manner. Black hat SEO also usually focuses only on search engines and not so much on the human audience.
Some black hat SEO practices to avoid penalty from Google are:
Keyword Stuffing
Cloaking
Link Farms
Link Buying and Link
Exchange Programs
Article Spinning
Doorway Pages
While these methods can give a temporary boost and may work to bring tractions but it will not take long until the penalty starts to apply. Over time, it may not be worth the risk because the results can be harmful to your site.
Make the Most Sense for Users on Sites
Here is the quick question.
What title separators should be listed first? The Company's name or page's Title?
Keep in mind that the title is primarily meant to aid users so that they know where they are. The title may appear in the top of the browser and also in browser tabs. If a user has multiple tabs open they will only see the beginning of the title. Thus use the most specific content first. This would be the title followed by the company name in your example.
The title is also shown when we paste a link into social media sites such as Facebook or Quora. Thus we must think about what would make the most sense for users on those sites. We want to capture their attention so they click the link. Going with the title first also works to our advantage in this scenario.
Remove Errors and Mistake from Your Custom Website
This activity where you are able to detect a website with errors such as broken links. The first thing you should do is to remove all errors. For instance, unused JavaScript, sitemaps and implementations of H1 and sub headers. Screaming frog or deep crawl are excellent site audit software's that detect errors but identify the causes why slow websites cannot get good Google ranking. 
GTmetrix  suggests how you can improve the speed of a website.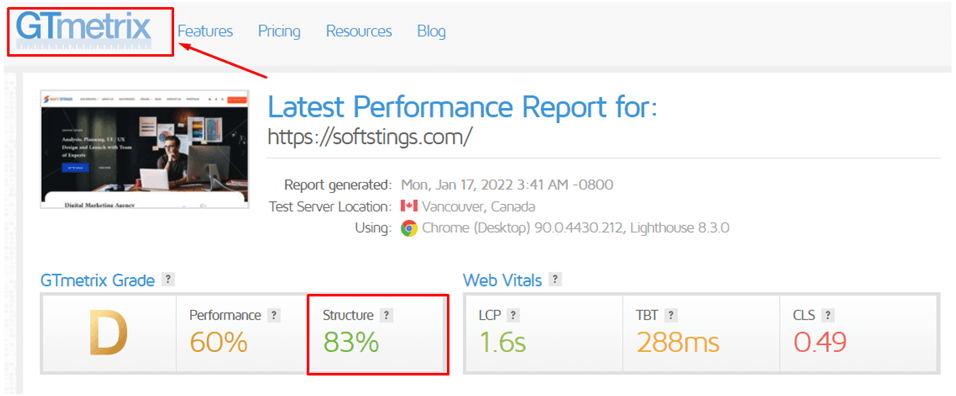 We have been using this tool to observe the metrics such as site speed and act accordingly. Also, not complying and adhering to the Google guidelines leads to decline in traffic growth on Google, therefore you must follow their compliance or you will be penalized (latest update Core Web Vitals).
Find out what Questions, People are Asking in your Niche– Put High-Value Contents
If you want to make search engines happy, then make your website readers satisfied with some valuable and well-researched contents. Since you operate in a space like Google there is a plenty of competition you have to beat them with the depth and value of your contents. Do not just re-phrase the contents from other websites. Go to Yahoo Answers, Quora to find out the pain points and you have to address the answers to these specific queries.

Find out the domain authority and page authority of any internet site. Do not get frustrated, link-building is a slow process and increasing the visibility of your website is a long term commitment. Therefore, just proceed forward, slow and steady, bit-by-bit. To earn links with your contents as mentioned above.
Social Media Engagement with Instagram advertising cost
Everyone knows that social media is important to get your website visible.
For a continuous visibility and traffic to your website, you need a constant engagement with your audience and not just occasional interaction.
For this you need first to figure out what types of contents perform better. Engagement metrics in Google analytics which you must understand and monitor. Videos are also good for engagement.
Facebook advertisement is still cheap and if you know how to make a good custom or lookalike audience for Facebook ads then you can try that and tweak that until you get results.
Promote Your Business Website Locally with Business Directories
There are still a huge number of people who prefer directories such as Trust pilot, Good firms and Yelp. There are many local directories out there which have a large circulation and advertising there could be on a budget or even free. You can talk to your council or local clubs and you might be able to get a free advertisement or at a nominal price.
Conclusion
Set a target for 90 days – an ideal timeframe to learn see the results of the implementation of the tactics that will help you drive up to 20,000 visitors to your custom website but if you're not consistent, the next Google wave might sweep away your search results. To sustain your traffic this year, you should write more often and promote your content as much as you can. Call us to know how much are youtube ads?  Do you want digital marketing services?  Talk to our sales team to inquire how much do google ads cost and get started with your first website and online visibility.