Introduction To Digital Marketing Funnel
In this blog post, we are going to cover the digital marketing funnel "The Sales Funnel". We will also cover the methodology by top digital marketing agencies.
 An approach for the prospective customers that need your product/service and have the budget to pay for it to make a purchase decision from your company if there is cut-throat competition in your niche. – Ultimately, qualify those leads and convert them into customers. Inbound marketing uses content to accomplish this.
The concept of the digital marketing funnel (Sales Funnel) is something every business owner must understand. It is essential to know the following:
The reason why developing strategies can attract and nurture prospective clients at the top, middle. 
Bring prospects and leads to the bottom of the funnel by leveraging inbound marketing and effective strategy.
Top of the funnel contains a large pool of unqualified leads.
How to perform marketing efforts to set goals to find the hidden opportunities to qualify those leads – 
Introduction to the Funnel?
At the top of the funnel, a buyer typically tries to solve a problem or meet a need. As a result, they are looking to be educated and find information that will help them figure out the best solution. Unfortunately, at this point, their value as a prospect is low because they are unqualified, and the probability that they will buy is uncertain. 
 Before digital marketing analyst can qualify those leads, you need to help them find you online and make sure they know you exist. 
How do you do this? Digital marketing solutions include offering them answers to their questions and solutions to their problems.
Because most people begin their buying process online, one of the most powerful strategies for attracting visitors and converting leads at the top of the funnel is to create keyword-rich content in the form of blogs. 
After the brief definition, dive further into the concept and add more context and explanation if needed. 
Stages of the Sales Funnel
When a visitor performs a query on Google, they are looking for answers. Companies with a digital marketing funnel are the ones that show related content about your products or service; they find you. 
Consider blogs as a lubricant that makes your inbound marketing engine go. Research companies confirm that brands with thought leadership blogging get 55% more website traffic than those who do not.
How do you make sure your blogs get found?  
The first step is to optimize your posts for search engines properly. Here is the checklist for you that helps in optimization and SEO for inbound efforts. 
Top of the Funnel
Are you using relevant long-tail keywords in the blog title and copy? 
Do you have good meta titles and descriptions within the character limits imposed by search engines with the keywords?
Generally, 60 characters for titles and 160 characters for meta descriptions. Is every pillar page and blog optimized as per the limits defined by Google?  
Once your blogs are optimized as per the user intent and answer the user's query, then it's time to let the potential customers know all about them. TOFU content like blogs, whitepapers, pillar pages and landing pages are great for increasing website visitor traffic.
But what good is traffic if you can't turn those visitors into leads and capture information about them? 
That is the purpose of the middle of the funnel offers. Digital marketing solutions cater to the gated content and a distribution plan to build authority. 
Middle-of-the-Funnel
While blogs are very effective at bringing visitors to your website, they won't help you qualify prospects or make a sale. On the other hand, MOFU offers are arguably the most critical part of the sales funnel because they turn visitors into leads. 
Prospects in the middle of the funnel know that they have a problem. For that, they propel further into the digital marketing funnel need to determine the best solution. 
As a result, their commitment to making a purchase is higher, and the probability of closing a deal with them is more obvious. Because prospects are one step closer to making a purchase, MOFU prospects are usually pretty good leads. The content at this stage is worth having a salesperson contact them directly. 
With Information you Create Email Lead Nurturing Campaign 
Whereas the top of the funnel content aims to educate buyers and show them how to solve their problems, the middle of the funnel must gain trust.
 It's not enough to offer your website, visitors, great content. You need to capture information about them so that you can qualify and nurture the best leads.
Do this by "gating" your content and putting it behind a landing page with a conversion form. At the very least, make sure your sign-up forms require visitors to provide their name and email address.
With this information, you can create email nurturing campaigns and personalize those emails.
Once a prospect has moved through the middle of the funnel, you should know whether they are planning to make a purchase or not. 
At this point, the bottom of the funnel strategy comes into play. Here are some tips and tricks to converting your leads into customers.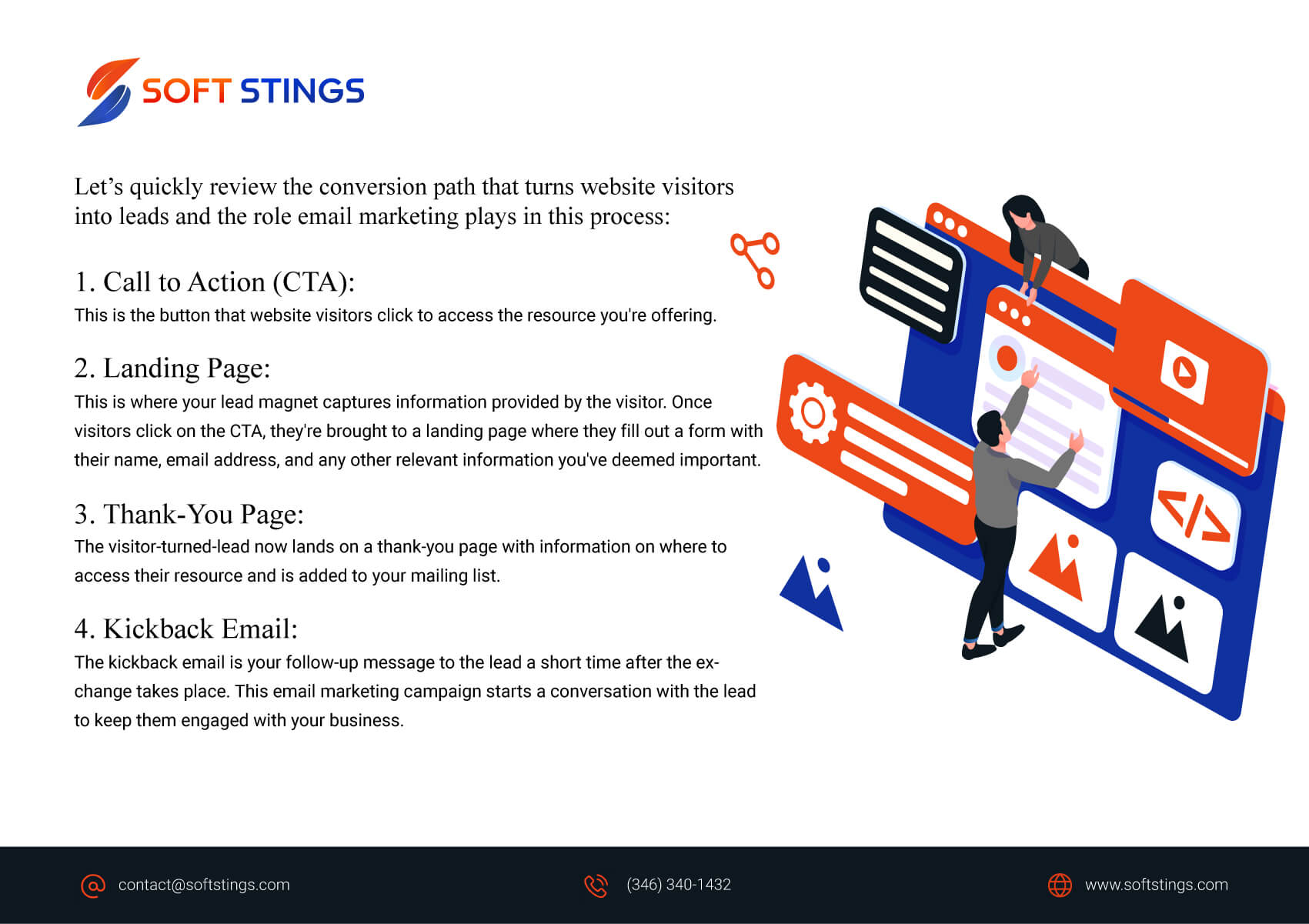 Bottom of the Funnel
By the time a lead reaches the bottom of the funnel, these leads are the "low-hanging fruit" of the sales funnel. Often a gentle nudge is required to enable them to take action. The right BOFU offer can be very effective in helping you close deals.
Ironically, most websites are full of BOFU offers. However, marketing efforts require a lot of strategic planning and sales-ready content to seal the deal.  
You can't resort to cold calling and pressuring buyers—instead, assets and lead magnets primarily focus on educating and providing resources as they progress logically through the digital marketing funnel.
It's essential to have a few reasonable BOFU offers, most of your website visitors are nowhere near ready to buy.
Buyers get between 60 and 70% of the way before speaking to a salesperson. 
Given that BOFU offers are essentially an invitation to be sold to, the odds are that most of your visitors won't convert on these.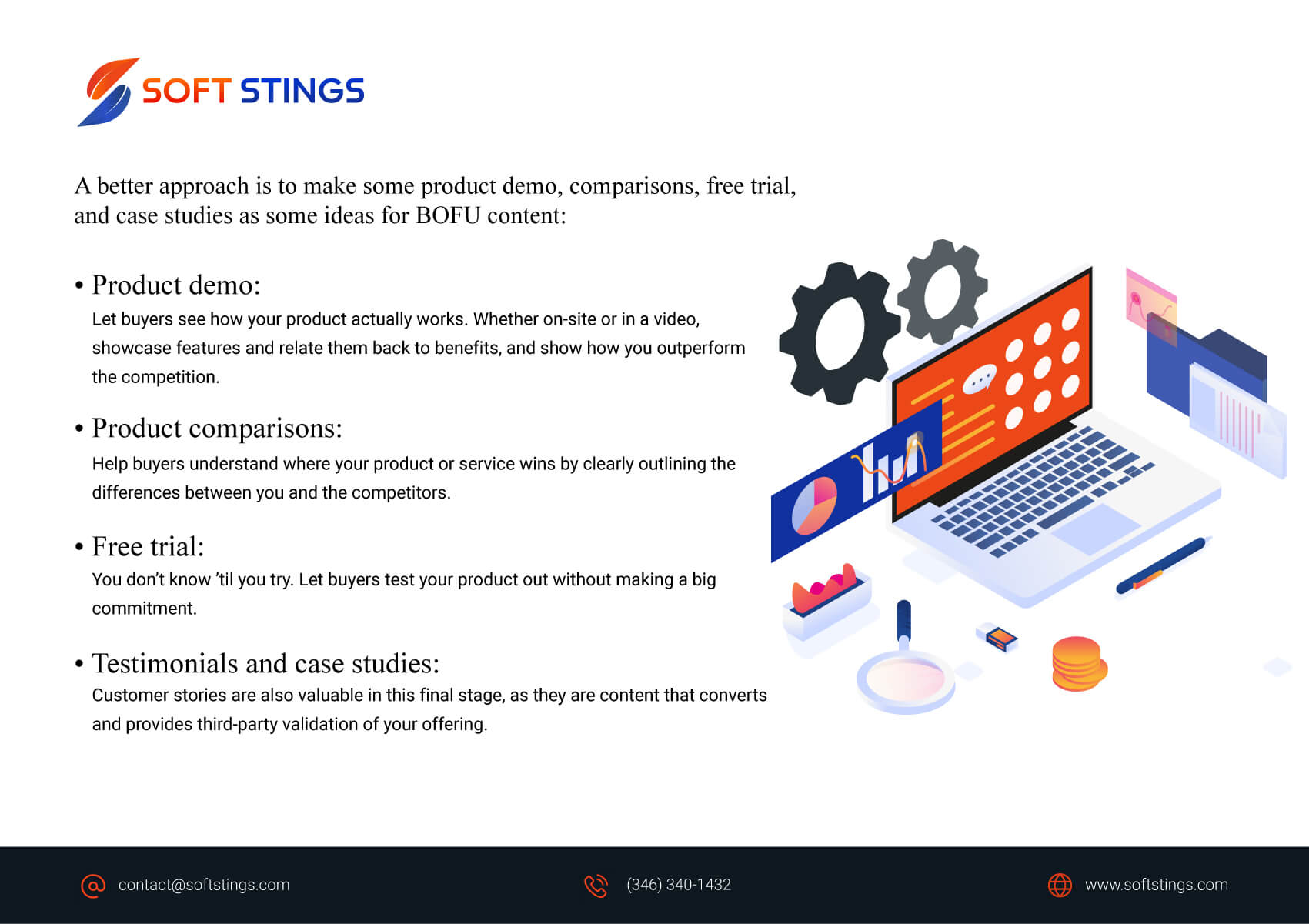 It will dramatically increase your lead conversion rates allowing you to influence their choice of solution.
That's how you position your brand as the preferred provider.
Bottom of the Funnel
It's important not to forget that the best inbound marketers are constantly evaluating the effectiveness of their campaigns.
Therefore, adjust the strategies to maximize results.
Dig into Google Analytics to understand more. If you find that your content falls short or doesn't address the correct audience, pivot.
Just because you've started on one path doesn't mean you can't make changes to your strategy.
Did you know top digital marketing agencies constantly iterate the underperforming pages to bring the best results?
Schedule your Free Assessment
Not sure where to start? Tell us about your goals for an integrated TOFU, MOFU, and BOFU strategy. Our agency can help you with the help of inbound and outbound marketers to guide the marketing strategies.  Take some time to discuss your needs with our consultants the time to understand how effectively each marketing channel can turn those visitors into leads and customers.