Mobile apps are redefining customer behavior. You get better customer engagement and customer acquisition channels than ever before. Today, small-medium enterprises and entrepreneurs continuously leverage innovation to reach wider audiences and convert them into repeat consumers.
This blog will cover Mobile App Development process in 2022 with a fast recap of the app development. We'll then dig into what wireframes are and what modern-day tools are required to build them, what is testing support and maintenance.
Mobile App Development Lifecycle 2022
Application development for the mobile app is not a simple process. It consists of choosing the right platforms, development of the mobile app front-end with launching, testing, deployment, support and maintenance. The process is still not over yet. There is more to mobile app development process steps.
It continues to the development of the back-end, which includes API and business logic. An app must cater to the business need with different functionalities for any business. Developing a unique and successful mobile app requires a thorough understanding of the market and the customer's pain points. We constantly focus on the app requirements and its domain.
Build an App Development Strategy
Some simple and doable steps that are crucial in creating a Mobile App Development Strategy. The strategy begins with establishing the user profile. Secondly, defining the data to be made available through the mobile app. Furthermore, design the data security protocol and finally decide how to leverage the data generated by the mobile app to make business decisions.
Once we have the clarity of mind with the strategy that is going to serve as a blueprint for development and deployment stages. We will proceed further towards gathering the business requirements and understanding the features, functionalities and optimization to get a mobile app developed.
What are the Prerequisites for Project Requirements?
Experienced mobile app development companies usually begin the process of app development with a business document- an NDA before app development. Once you finalize the app development stage, NDA comes into play and includes every detail of your app development that the company needs to provide you.
Agreement and term sheet with the name of both the parties for signing the agreement, the timelines, and the confidential information,
A business requirement document highlights and specifies the project, application features, and tech stack.
Mobile App Development Design Phase
A UI designer first begins the process with a rough framework called Wireframes. A page schematic or screen blueprint serves as a visual guide. So now, a UI designer begins the ideation phase with the help of wireframes and important part of mobile app development process.
What are Wireframes?
They represent the skeletal framework of a mobile app to get started. A prototype subjected to further improvements. The next phase involves getting into the source files, fonts, images, SVGs, and some notes.
Wireframes deliver a straightforward and sometimes very precise outline for mobile app development process. It is a page structure, layout, information architecture, and the best approach to comprehend the user flow. Sometimes it gets easier to get an idea for an intended behavior. Thus, it represents the initial product concept.
The Workflow Begins With the Design Tool.
It is best to leverage Figma- the best UI prototyping tool we have today for designers and developers. Instead of sending a long list of elements to developers, the production workflow gets a lot leaner. The tiny URL acts as an exportable link. The panel supports formatting style visual guides around the selected direction.
Wireframing and App Design
To describe the wireframe in the short term, it is an element of the app development life cycle that helps to work on the final design solutions. Designing wireframes is an important factor, no matter what industry domain or the digital platform you're working on.
Mockups
Essentially, a mobile app mockup is a designer's milestone. A stage in the mobile app development process between a wireframe and a working prototype. In mobile app design, a high fidelity simulations of a mobile app combines the logic of design before starting development.
A mock up is an excellent demonstration, design evaluation, promotion, and other purposes. Mock-ups are used by UI designers mainly to acquire feedback from users, stakeholders and team members to see if the overall design strategy meets the intended business goals.
Mobile App Development Process
Mobile app development is considered the active phase of the development life cycle. This phase utilizes waterfall methodology to implement agile for coding, user roles, repositories, and verifying the functionalities are incorporated. Some developers call it the soul of the mobile app development process. Nevertheless, the app's concept must be clear to the development team.
App Testing
App testing is a crucial part of mobile app development process. Once the app is created; it is necessary to know the app for its performance. Our QA engineers are highly focused on testing the functionalities. Before the app launch, the QA team organizes various test cases to know the bugs or errors in the app. If found any, resolve them to get the desired app quality.
App Launch & Deployment
As decided for the app platform, your app is redirected to Google Play or Apple's App Store for the application deployment.
Once your app gets posted in the App Store, the apps experience a review that may take some time to finish. It rely on how closely your app fits the iOS app guidelines as Android does not have a review procedure.
For Android, your app is available on the Play Store after a few hours of submission. A developer account for publishing your app in the market. The most common are Apple and Google Play Store.
We can help you with UX/UI Design, Mobile App Design, Wireframes,
Q/A Testing
and Deployment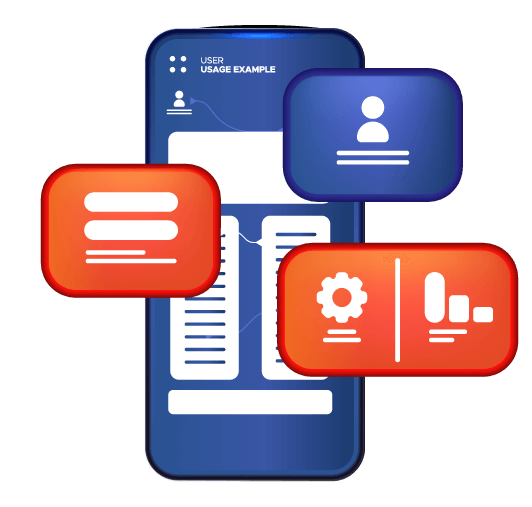 Application Security Testing
Application security testing is essential during the development process and after the app has launched.
Shockingly, 40% of businesses don't scan app codes for security vulnerabilities.
They are testing to see an app operational for a ton of features. Some apps use a card-based interface to help make readability easier. An app is tested for moderator features, inline media previews, multi-account support, filters, spoiler alert support, and customization features.
Support
The iterative process includes the app's technical performance—additionally, some benchmarking against goals and targets design tweaks for your next iterative release.
This brings us to our next point which is app's maintenance. What maintenance does an app need? Also the difference between maintenance and support.
Mobile app maintenance and support are procedures followed to ensure a continuous and bug-free working of any live mobile app. It includes the careful assessment and monitoring of the elements that contribute to the end user experience.
The best development companies incorporate a maintenance charge into contracts. The practice among software houses and agency owners is to charge about 15 to 20 percent of the original development costs. So as a rule of thumb and according to set practices if your app cost $100,000 to build, roundly estimate to pay about $20,000 per year to maintain the app.
Conclusion
Businesses that sell products or services online must consider investing in mobile app to increase reaching to wider audiences. Various vertical industries e-Commerce, Gaming, Sports, Finance, Food, Travel, and Telecom are revolutionizing and causing disruption via mobile app to capture a big share in the market. Mobile app gives better customer service or increased loyalty. Comment down below to let us know how the guide helped you in mobile app development process.