Overview To WordPress
WordPress is used for blogging and affiliate marketing for managing content. Content marketers use it, and it is the world's most popular system.
It gives you the basic Easy administration
Customizing: Find the right themes, plugins, and widgets to make your site match your needs.
Maintenance: Backup, PHP versions, streamlining, or even automating your regular tasks.
There are more than 52,000 Plugins in the official directory. If that doesn't make WordPress great, see what makes it more awesome.
The 9475 Free Themes!
It's such a flexible CMS that users publish posts every second on WordPress sites worldwide.
37% of marketers successfully leverage the option of adding advanced features like spam protection and daily backups using the plugin over WordPress.
You will understand better with an example.
An Example of Why Professionals Choose WordPress
Social Triggers got rebranded after four years of launching his blog. Derek spent $25,400 to redesign it.
It brings us to believe that WordPress gets popularity due to its usage by professionals.
As you can see, there are several benefits to choosing WordPress for your business' website. It's a versatile platform that can be perfectly suited for small and medium-sized business sites. Its flexibility allows it to power simple brochure websites, million-dollar revenue e-commerce stores, and fully custom designs.
WordPress Offers Great User Experience for Readers
If you are determined to make your business grow, WordPress offers several features through which a business can easily scale.
This requires digging into your Google search Analytics and understanding user behavior to make their path seamless for driving traffic.
Do you think that you should not invest time and resources in improving the UX for a content website?
Then it would help if you read this.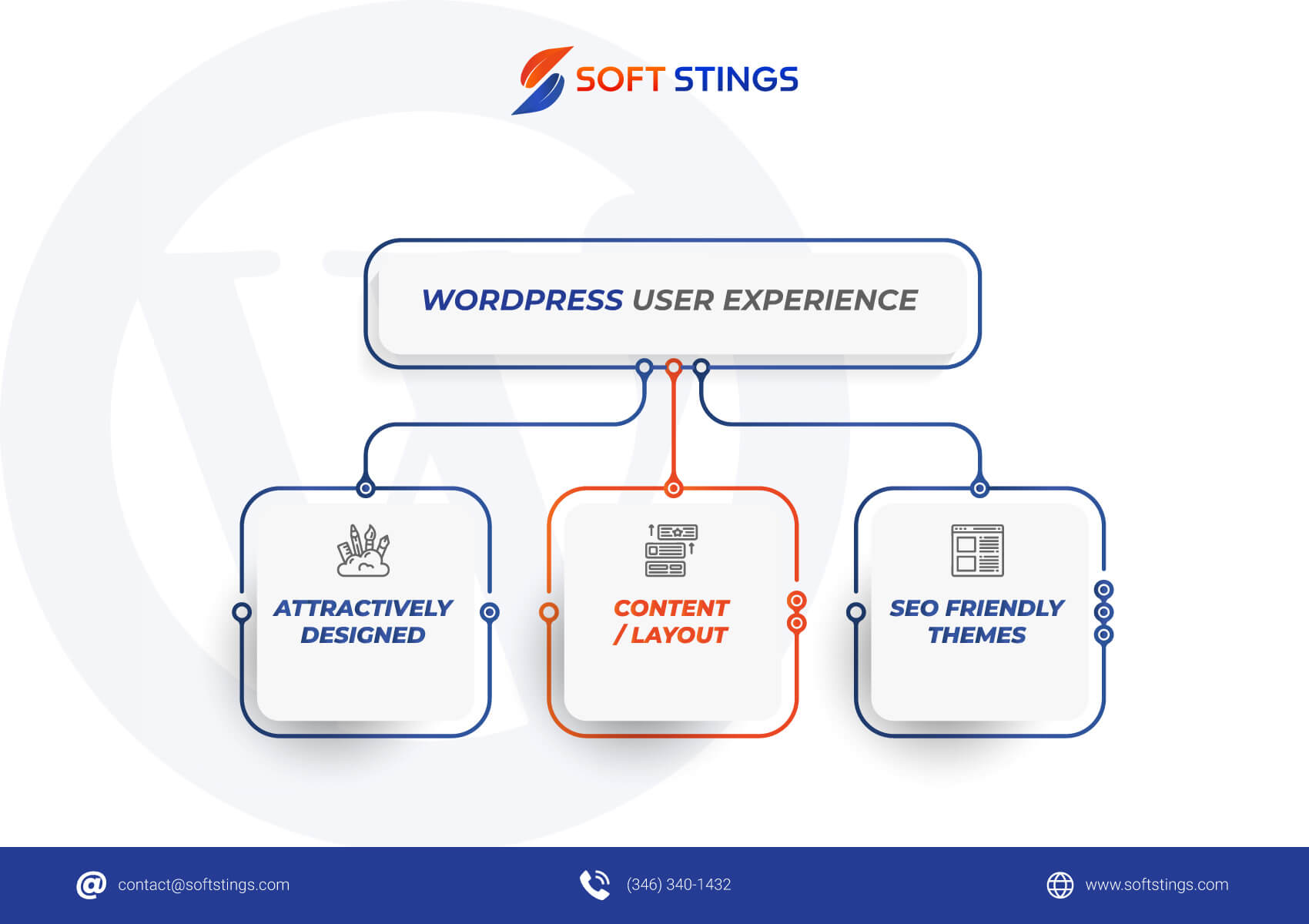 38% of people bounce off from your site if the content/layout is unattractive.
It has been observed that 66% of people will read something attractively designed over something that does not appeal upon given calculated minutes to read the content.
If you research the background of the bloggers that are making millions as their new revenue using WordPress as their CMS, you'll find that majority have started with a generic WordPress theme.
Then later understood the importance of SEO-friendly themes. They progressed to add everything they could to offer the best user experience, including Google's new invisible RECAPTCHA.
Adam Enfroy is a well-established blogger with a business model that uses WordPress for making money from affiliate marketing and earning millions of revenue each month.  Out of many bloggers, he is one of the prominent names who are doing a profitable business with a fast and interactive website that gets the most traffic using WordPress.
WordPress Themes That Offer More
A generic WordPress theme is a simple starter theme. But the advanced ones offer more features. For instance, easy customizations, spam filtering, and CAPTCHA.
This is what makes it the world's most popular CMS. Over 60 million people have chosen WordPress.Hundreds of thousands of developers, content creators, marketers, and site owners gather to become part of the community to learn and have an impact on technological advancement.
Monthly meetups in 817 cities worldwide to explore the powerful media management, responsive mobile sites, and customizable designs that are easy and accessible to creators, builders, and users!
WordPress 6.0 Product Walkthrough hosted by Contributors
Gutenberg has been an excellent plugin that has gained widespread popularity due to the features that it offers.
Interestingly, versions 12.8 and 12.9 are here with cool features that creators would love to know. It introduces the new block locking UI.
This is amazing. What else one can look for in a CMS as supportive as WordPress. The newly released versions of Gutenberg offer support for spacing between Gallery images.
Some major improvements are:
Patterns in WordPress, add unique layouts to your website. These include galleries, testimonials, pricing tables, and more.
Opening the directory to public submissions enables any WordPress user to enjoy a wider variety of patterns to use on their sites.
Includes a new Webfonts API, iterative UX enhancements, and bug fixes to increase the editor's stability.
more control over what is editable and presented to users
Helping People with Inclusive Community
All the pieces of art featured are built using Gutenberg. As discussed above the plugin is getting immense popularity in 2022.WordPress welcomes you to the Museum of block Art. It is for those who seek to inspire creativity and push the limits around CMS.
Still, wondering what can be done with WordPress?
Well, the fun fact is (you might understand it if you know what metaverse and web 3.0 is) that this virtual museum is built using the block editor.
Conclusion
WordPress is open-source software that we all can use to our advantage to create a clone of a website, a portfolio website, and an affiliate business site. With WordPress, website creation is oversimplified, fun, and exciting. Create a beautiful website, blog, or app.
What creators, builders, and business founders most enjoy is the beautiful designs, powerful features, and the freedom to build anything from corporate sites to passive income streams. WordPress is both free and priceless at the same time. Also, many other improvements constantly happening in 2022 that give creators more control than they could have ever imagined in any CMS.
New to WordPress, where to start? Read our other blogs to get an idea about the first steps with WordPress and walkthrough with the steps to make your website from the ground up.