Today, every small-medium enterprise, even coaches are using social media marketing to bring more leads and advertise their offers.
For those operating in retail e-Commerce, your business needs to be on Facebook, Instagram, and LinkedIn. Most marketers forget to focus on strategy and directly execute without knowing what competitors are doing.
So, to stay relevant, the marketing team must focus on planning and executing the long-term goals before diving into paid advertising with the social media strategy.
Brands like disruptive advertising, hunter digital, and fire belly marketing excel at social media and have been considered Top-Rated PPC & Digital Marketing Agency. There's one thing they are doing commendable: they integrate the core pillars with a strategy with a road map (clearly defined objectives) for social media marketing.
There are five main pillars. Let's talk through them one by one.
With 4.48 billion people owning social media accounts, there's a whole world of potential customers that any business can access, simply by logging in and creating brilliant content.
Strategy
A sound social media marketing strategy for your team or client to have a clear picture of who their target user is and how they can appeal to their specific problems of your social media presence. Without a strategy, much of the marketing efforts do not contribute to brand growth, are unlikely to achieve the reach, visibility and leads, and will most likely struggle to return on investment.
In case you're unsure, a road map with a strategy for strategic brand announcements consists of getting the content to the targeted persona at the right stage of the brand development.
Simply put, a content strategy benefits the marketing team to achieve business goals by enabling marketers and brand managers to:
create brand assets  
 reach an audience, engagements, and brand mentions
increase sales
A good social media marketing strategy has a content plan, an editorial calendar specific to reach those goals, and a defined timeline to track those efforts into measurable metrics.
Finally, you need to set targets for specified timelines to see how marketing efforts are going and whether you need to tweak them.
Planning and Publish
Social media apps are game-changers, so brands in FMCG have mastered the best use of social media and positioned their brand to prospects. It is not a good practice to start curating content publishing without an objective as a brand manager. So, it is best to set the benchmark and make sure that you:
Know the demographic of your audience so that prospects can relate.
Focus on quality, competitor analysis, and formats that perform well.
Consistent branding asset and brand voice.
Consistency is a golden rule for people coming back for more.
Listening and Engagement
Plan your content. At Soft Stings a (social media marketing agency), we engage with the audience to get feedback on the campaigns. Listening, using hashtags, and sharing on relevant groups are all that come in social media execution.  
 At soft stings, we leveraged the popular social media tool called Hootsuite for key terms and hashtags.
Analytics
Do you know that it is possible to refine your strategy by looking at what analytics tells you? The performance of any social media marketing campaign relies on the number. Numbers, when consolidated that give insights, are called analytics. To sum up, analytics allow us to track and understand user behaviour.
Our agency's social media team and brand managers use analytics to analyze your competitors.
Once you have all this, as a brand manager, you get a lot of confidence and credible data to vet the efforts on marketing.
The analytics allow us to track what works and what doesn't. In turn, analytics is best to comprehend future campaigns—and determine the success rate.
Similarly, A/B testing for content, design, CTA is an important part of iterations to bring the best out of the marketing goals.
Therefore, marketing efforts involve marketers actively tweaking the types of content to see which format receives double the engagement than other posts. Ensuring that posts appear in people's feeds. 
Advertising
For anyone interested in finding the increase in audience, social media advertising is worth seeing returns on ad spend. Interestingly, more than 2.89 billion active monthly users on Facebook alone look at the recent trends and use ad accounts.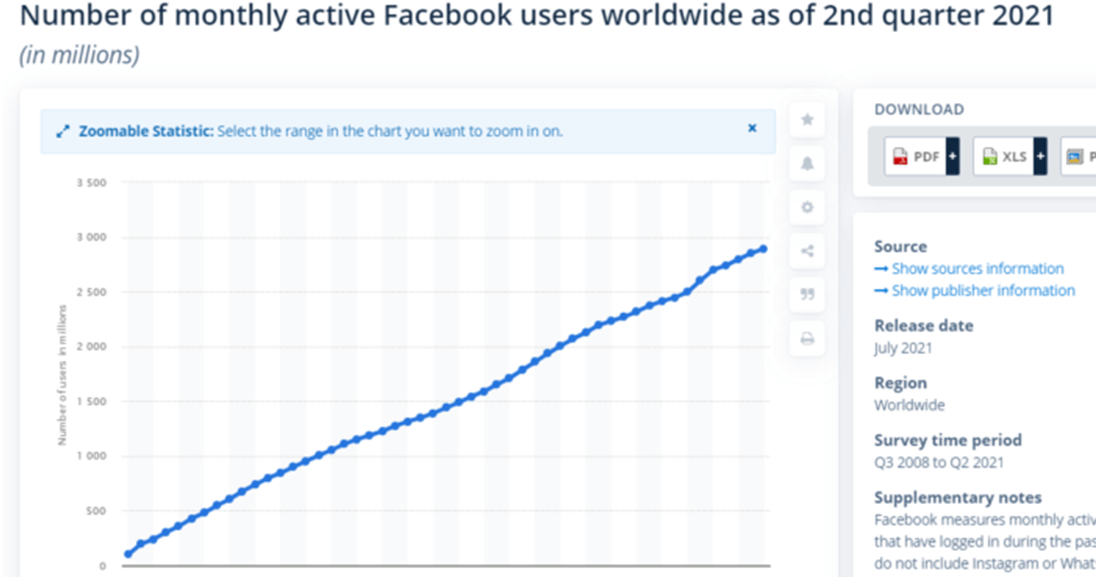 Social media advertising includes content that picks up views naturally, and there is no ad spend and any transactional activity. This is organic. Content that costs money to post. This is paid.
There are several ways you can advertise on social media. For example, you can:
Create strategic content based on the age of the brand, and engage with people as part of the promotion activity.
Secondly, it is best to participate in groups related to your industry.
It is advisable to invest in influencer marketing by interacting with influencers in your industry by creating and sharing content that appeals to people to grow a brand's following.
Finally, ensure you're accessible on social media so your customers know they can reach out to you. Don't just wait for feedback. Invite it!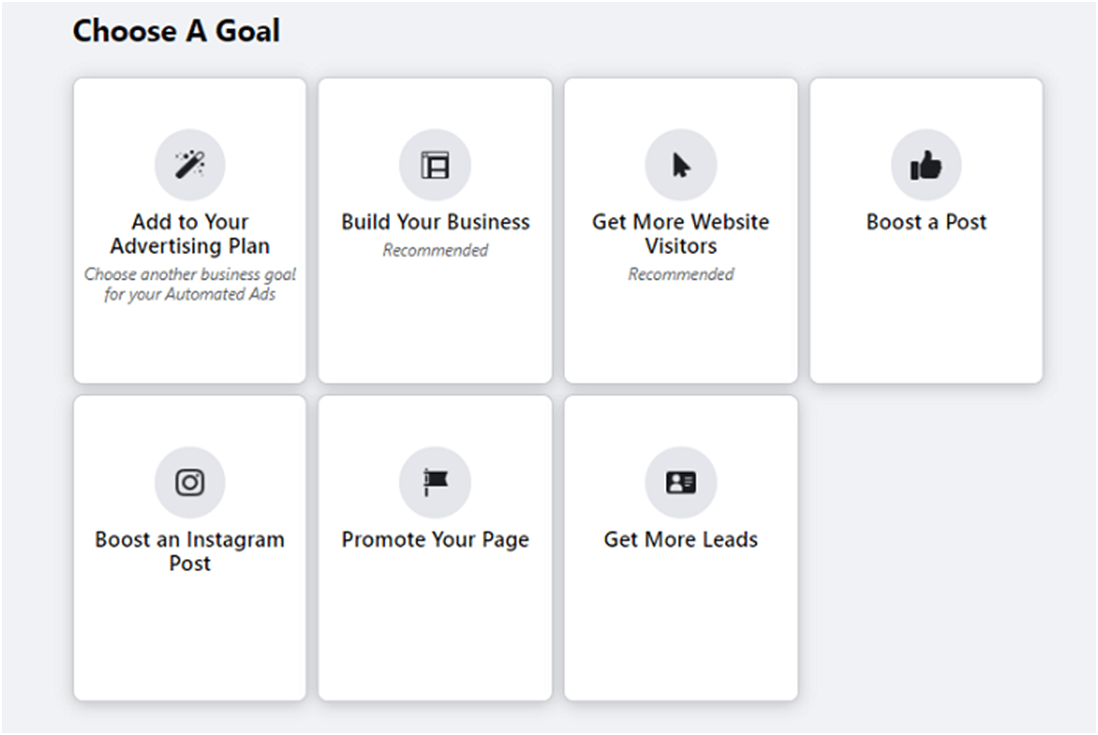 Platforms and social media apps like Facebook empower us to customize the audience via the ad manager link in the target audience popup.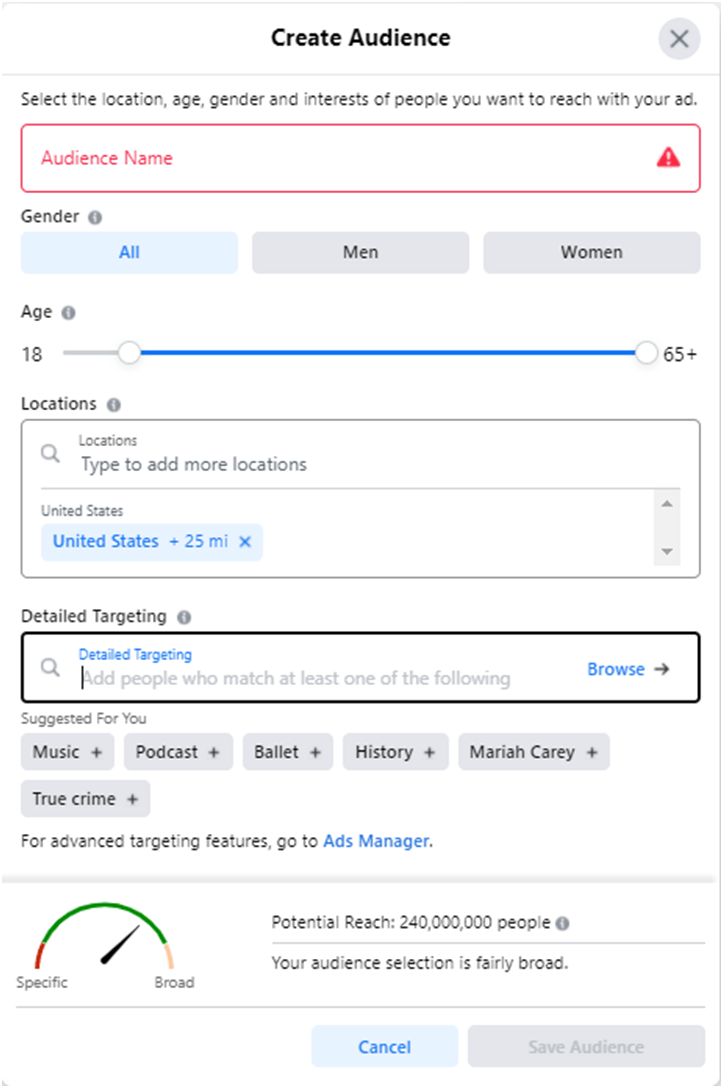 Facebook puts you in the decision making role to know your target market best.
Understanding Facebook's Lookalike Audiences
Facebook allows you to create lookalike audiences or smart audiences. So you can very easily create an audience you have previously engaged with.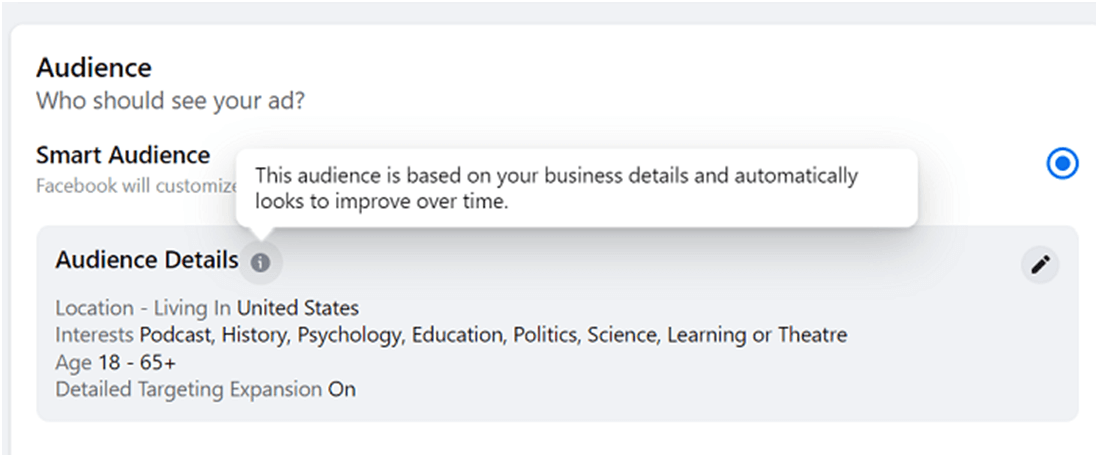 Instagram Integration
Did you know you can also run the same ad on Instagram with the business manager you published on Facebook? Yes, it is very much possible, and it reduces the work. Considering the integration is what marketers are doing in all the best advertising agencies. 
Brand Reach on Tik Tok
The algorithm of Tik Tok urges users to engage. Therefore, creators are recording themselves engaging in certain (usually defined) actions, viral challenges get popular and most reach. On TikTok, the content creators use hashtag and dance challenges to increase their following. Using clever product placement and putting a comedic twist on the video, you can make your ad more engaging and share-worthy.
Conclusion
Facebook and Instagram operate very differently from networking sites like LinkedIn, where professionals connect and see what's new in their industries. 
If your content, particularly polls and infographics, is tailored to provide value to the target audience, it becomes very easy helps to increase the brand reach.  
At Soft Stings we can help you with advertising/sponsorship, influencer marketing, social media management/community management, paid media, building your following and contributing to forums.