Imagine you have launched a website recently. You have optimized it perfectly, but what do you think will it rank soon just by doing SEO? 80-90% of the time, a company's landing page is at the top of the list of Google searches. So why do you think SEO alone ranked their page in the top 3? 
Suppose you're thinking along the same lines. 
In that case, we'd like to give you a quick rundown of the Google AdWords services, which, when used precisely, will lead to fruitful results for your business.
The Primacy of Using Google AdWords Services
If you are considering using Google AdWords services or tools, you are at the right spot. Let us tell you their secret about ranking crazily. So without wasting any further time, let's dive into the importance of using Google AdWords services to bring enormous traffic to your website.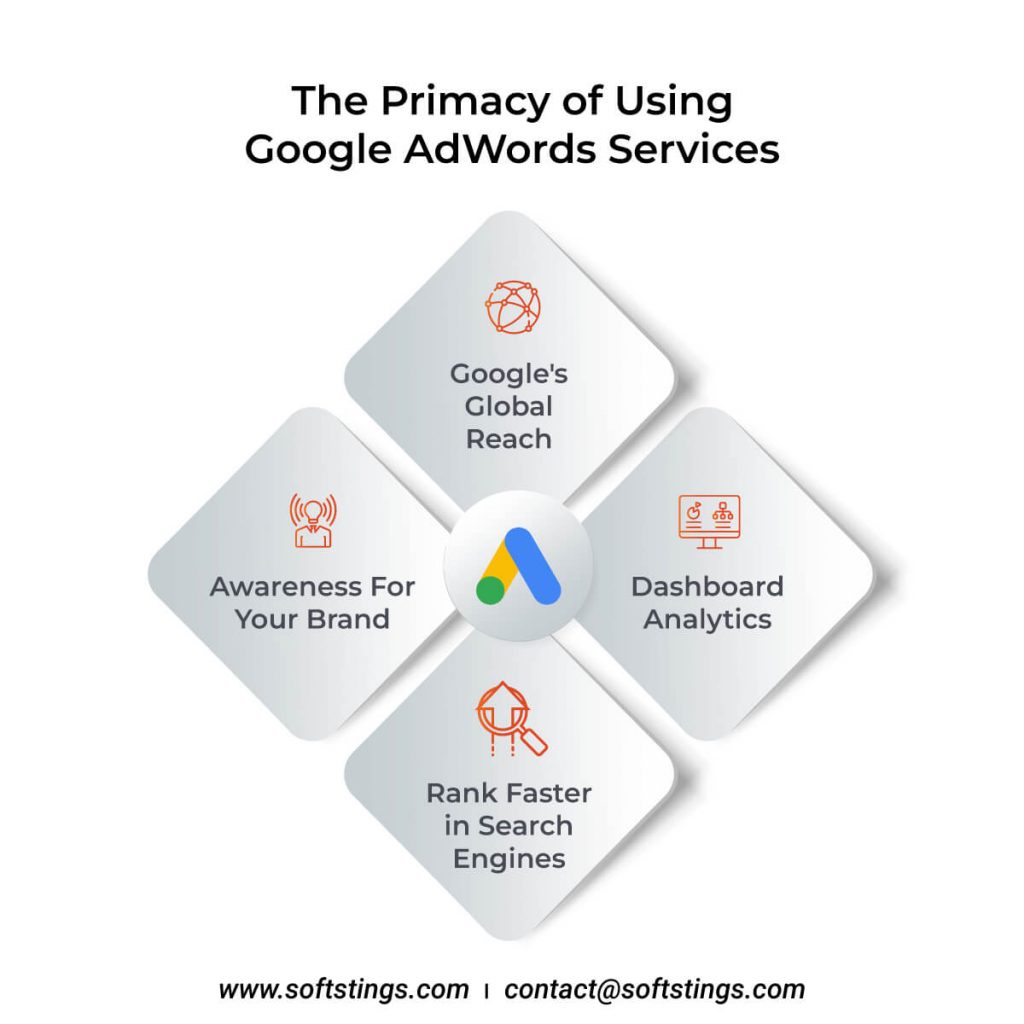 Google's Global Reach
There are a lot of eminent campaigns that offer ads, but all those brands can't beat Google for its massive reach. Do you know why?
This is because when you had a query in your mind that needed an answer, what would you do?
Want to know the answer?
Google it.
Do you want to know how many calories you were taking in by having a single piece of cake?
Google it.
Every day, the Google search engine handles more than 5 billion searches per year. Among these, people are searching for solutions to their problems.
And if your firm can help them find the solution, even in the ad form, they will go for you in contrast to your competitor.
Rank Even Faster in Search Engines 
By using Google AdWords services, you can rank even faster in search engines, in contrast to only preferring SEO as the best thing.
The highlighted benefit of using the Google AdWords tool is that it works faster than SEO. In fact, both of them (SEO and Google AdWords) is the marketing strategies for search engines whose primary function is to generate more traffic to your website. The more traffic there is, the more leads there will be.
But wait, if you think that you will be ranked faster only by using Google AdWords services for your business campaign, you might be wrong. Because to get the desired position on a search engine, you have to optimize your Google AdWords tool for your website.
And if you are a business owner, you must be familiar with the benefits of digital marketing, whose purpose or agenda is to reach the targeted audience at the perfect time.
So, you can achieve your desired position by using this platform along with an excellently targeted audience and using the right keywords (as you don't want to ruin your efforts or waste your money by using the wrong keywords or audience).
Dashboard Analytics
Google will analyze the overall summary of visitors and present it to you in an understandable format.
You can improve yourself when you know what you have been doing wrong, but without knowledge, you can't bring fruitful results to your campaign.
And luckily, Google makes the report easy to understand, including clicks, keywords, and even the behavior of the visitors, including the average time they have spent on your website.
Create Awareness For Your Brand
What is the first thing that comes to mind when you hear the term "Google ads"?
And I'm sure most of you will think about PPC advertisements on search engine result pages as the primary means of increasing visitors. However, Google Ads are more flexible.
Brand awareness can also be built with the help of Google Ads services—it is something that well-known marketers would prioritize.
The more you constantly repeat your brand's personality and reputation, the more your visitors will trust you, resulting in a more solid brand. This is what will eventually lead to sales and repeat customers.
Google Analytics vs. Google AdWords
We can see a vast difference between the overall transactions and goal completions reported by Google Analytics and Google AdWords.
In general, Google Analytics tracks how a person reaches your site and how they come to know about it. And with this tool, you can optimize your website through the ideas you get by tracking people's search information.
On the other hand, Google AdWords helps reach targeted markets through its platform (search engine) and other associated sites.
But using Google Analytics and AdWords together is preferred to learn more about your customers' behavior.
Conclusion
I'm sure your curiosity over "why marketing agencies like Google ads" has been turned into "why not?"
Google Ads has something for businesses of all sizes, with different budgets for achieving their goals. So, if you are a startup, it is preferable to use Google AdWords services for marketing purposes.
So, why don't you throw a bucket in the sea of 2+ trillion searches per year to see how much money you'll make?
Looking for a partner to assist you in adequately utilizing Google AdWords services? Let's get on the call and see how we can help you achieve your goal.