In this blog, we will explain three app marketing strategies that can help you build brand awareness, strengthen app store conversion, and boost downloads. Learn the app marketing techniques from experts at Soft Stings to separate yourself from the competition in getting in front of potential users today.
Introduction to App Marketing Strategies
Launching a new app? Learn the app marketing techniques with marketing prerequisites such as:
Technique 01 – PR
Technique 02 – Video Strategy:
Technique 03 – Influencers:
Technique 04 – Content Funnel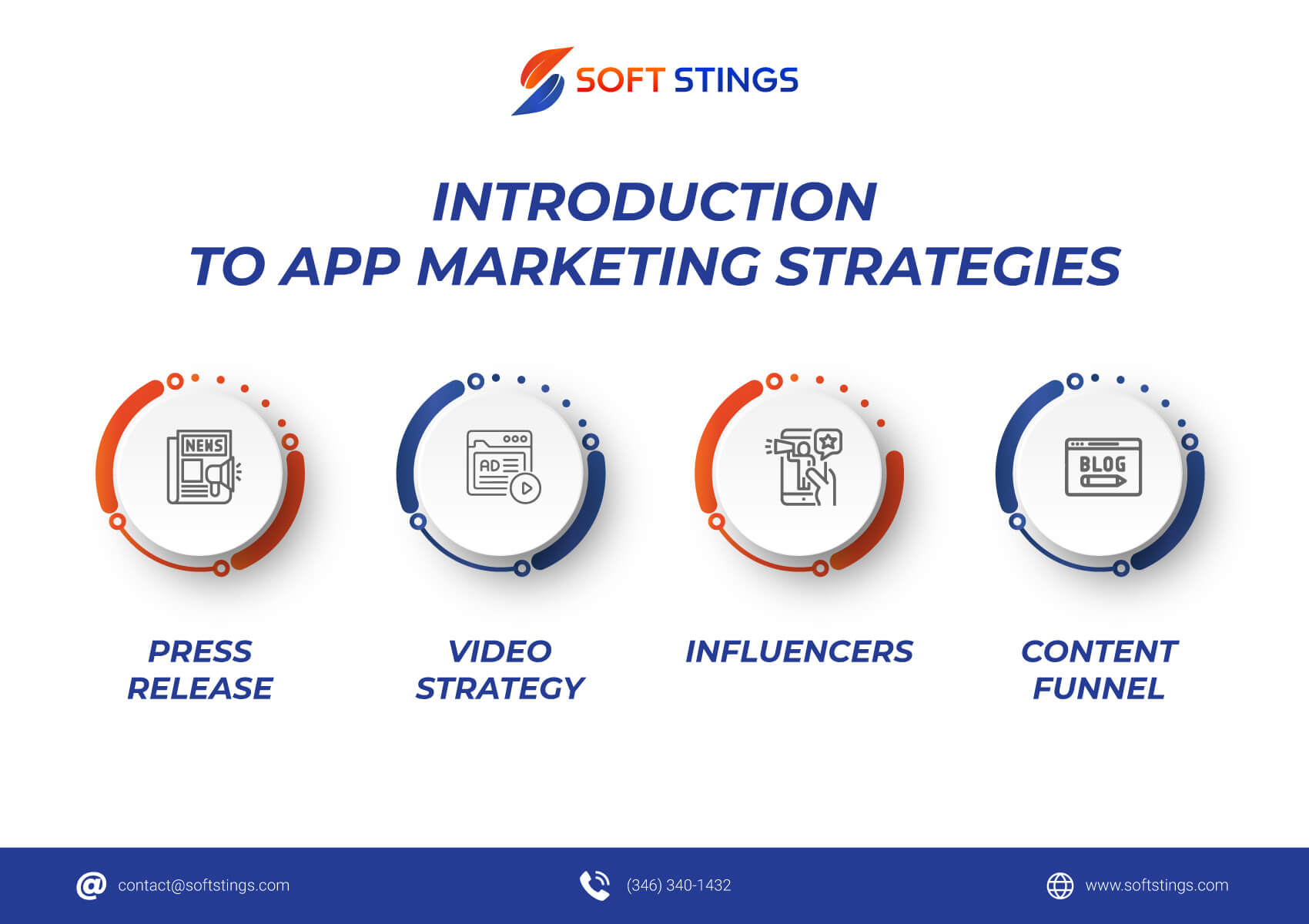 Tip #01: PR with a journalist for getting featured
Look at related articles or product features in the publications that you want your app featured in then find the name of the journalist that wrote it.
Using email lookup software like hunter.io to find that person's email. Send them an email telling them about your app and offering them free access to your application.
You may not hear back from some of them at all and some may ask you for more information. A small handful may choose to mention your app in an article or even do a full product feature.
Tip # 02 Include Some Features in the MVP and Market Them Through Videos
It includes creating awesome videos. Today, online videos make up more than 82% of all consumer traffic overtaking blogs and infographics.
Mobile video consumption is growing at a rate of 100 percent per year for app startups explainer videos demo videos and promo videos can show potential users how your app works, describe its features and benefits tell your brand's story.
Tip # 03 Building Your Relationship with Right Influencer
You probably can't get Oprah to mention your app but who is the Oprah of your industry. According to surveys around half of the social media, users rely on influencers for product recommendations in comparison.
It implies that influencers have almost as much power over our buying habits as the people that we trust most and it's an effective use of your budget too because the return on investment is insane.
According to studies, influencer getting influencers to promote your product isn't that difficult. There are influencers on every platform Facebook, Instagram, Twitter, Tik Tok, YouTube and others.
Here, you can download our pdf guide to help you with your mobile app marketing.
Click here to download the PDF.
Tip # 04 Content Funnel
What queries are your PROSPECTS typing in google to find out how to solve their problem where are they turning to online to compare one solution to another? You can respond to all of these questions using content.
Content like product comparisons product, reviews, and case studies can give them the social proof they need to choose your solution over a competitor.
Conclusion
65.5 of smartphone users download zero apps each month so the odds are stacked against you from the moment you launch your app and if you manage to get a few downloads that still doesn't really spell success
The average person has more than 80 apps downloaded on their devices.  Now is your chance to stand out among the competition you can drive users to your application!!
Looking for app marketing strategies? Talk to us for a quick discovery call to see how we can partner to help you reach your customers.
See How Our Teams Can Help You
Soft Stings empowers organizations to maximize the overall return on software development by delivering software faster, more efficiently, while strengthening security and compliance.