Researching for products on Amazon has evolved to a greater extent. As a result, product research methodologies are there. It's like finding a needle from haystack.
Who can benefit from the research database? People who are just starting out for the role of product research as a service provider in digital agency. Likewise seasoned sellers can also take advantage. This detailed guide assists you to get key Amazon insights, forecast product sales, compare competitive data, and get profit projections for Amazon product research.
This post will cover how to leverage a tool for product research for those who have started to explore Amazon for FBA. Jungle Scout is the most appropriate tool for product research. The manual process of searching for products is difficult and time-consuming.
Minimize Risk For Finding the Winning Product
We're not going to invent something new, so we're trying to minimize our risks, and so the first thing to decide is which marketplace you wish to sell on. Are you going to sell on amazon.com in the USA are you going to sell in the U.K? Germany it's up to you can decide
It's a personal decision most people will sell on amazon in the U.S. because it is the largest marketplace out of all of them. The runners-up are UK and Germany, so if you live in those countries, then you may wish to sell on those platforms first just because it's easier if you already live there to get signed up; otherwise, you may want to sell in the U.S
Choose Where You Want To Sell
So you choose where you want to sell and that's where you're going to be doing your product research. For example, we're going to be selling in the United States and then what you would do is find some products.
Some Categories to Avoid
You probably don't want to sell in so these are the categories we would avoid. Let's see what to avoid and why it is best not to choose them. Here is why:
Watches because you know most people who are buying watches want to purchase specific name brands
Video games because, of course you're not making a video game here. That's not what we're doing with private labeling
Software, music movies, and tv kindle store
Computers and accessories
So pretty much all of these categories are viable product categories.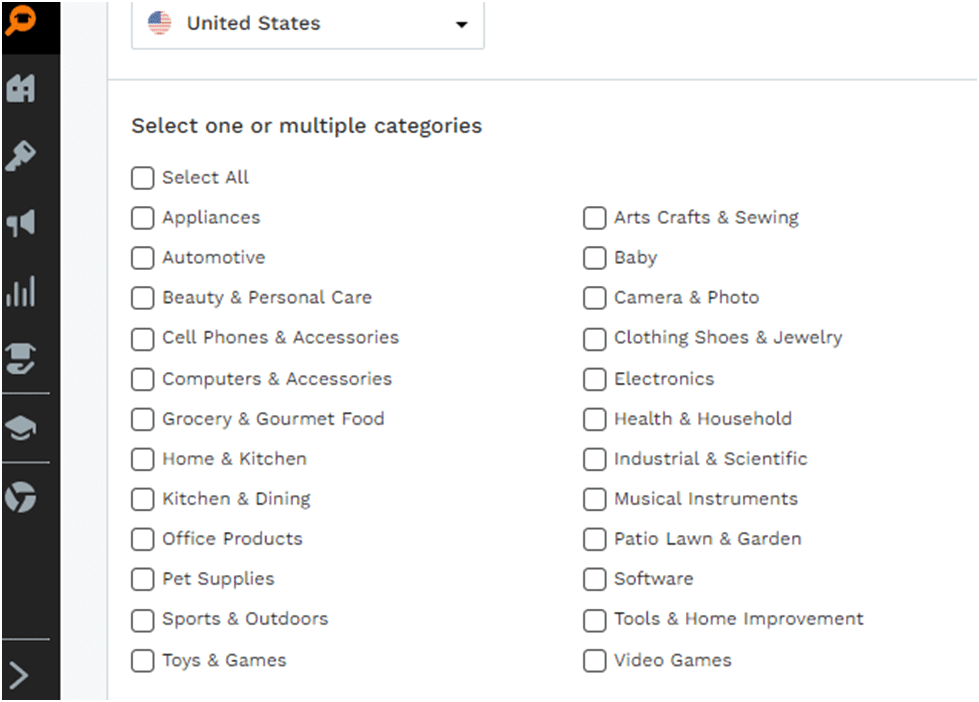 Begin Looking with BSR
Jungle Scout Sales Estimator determines the BSR. Predict average monthly sales numbers for specific Amazon categories and even spy on your competitors. Best seller rank which is under product information. There's a free amazon sales estimator brought to you by jungle scout Input.
The BSR identifies the marketplace you're selling and then also specify the category. What that's going to do is it's going to help you get an idea of how many monthly sales that product does. You need to see the product that sells well.
Explore Product With Filter Options
You don't want to be selling a product that's under 15. If the sales price is below 15, it can be very tough to make a profit because you've got to account for the amazon fees, the referral, shipping your landed costs, all of that, and product selling under 15. So you can make a profit, it's just not going to be very significant, so we prefer if you find products that are selling between 15 to 70.
High Demand & Low Competition
Well, our goal with selling on amazon is we want to look for products that are high demand and low competition, and so that simply means that we want to see that people have an interest in this product. People are buying this product on amazon. There would be enough demand from shoppers that they would be searching for this product and buying it, but we also don't want to see too much competition because that makes it hard for us to compete so the way we identify competition is based on how many reviews other sellers have on their listing.
Conclusion
This is how you can find the most profitable product opportunities faster than your competitors. Jungle Scout for product research is all about the data, so it is possible to find a winning product for making your private label on Amazon with the methodology explained above. We hope this helps. Need any help with WordPress ecommerce? Our team can help you with WordPress ecommerce themes. So don't miss a chance to hop on a consultancy call with us for ecommerce website templates. Just talk to us about best product research for ecommerce.