This blog will cover how you can perform a detailed site audit. If you own a website, you need marketers — preferably an SEO resource to give you fundamental insights about installing Google Analytics, Google search console, Page speed insights for on page seo.
Similarly, you will also need a Google structured data testing tool. For that you may need to have a free SEO tools and some paid online marketing software to perform the result driven data analysis and suite behaviour.  Here is what you need:
Screaming frog, Ahrefs, and semRush to determine SEO keywords),
Copyscape for observing the content duplication.
A SERP simulator, and a Web page counter handy. 
Get all of these tools configured and up and running before you intend to perform an on page SEO audit. If these tools are operational in the tabs of the browser, the work becomes a lot easier.
Here's a breakdown of the on page SEO audit process we'll be following. As you can see, the aim here isn't to show you how to do a "technical" SEO audit (which you can do with almost any SEO site audit tool) for conversion rate optimization services, website content and WordPress website development.
Tools Required for the SEO Audit Process
The aim is to provide a comprehensive approach to auditing your website from an on page SEO perspective. This means auditing your rankings, backlink profile, existing content, redirection issues.
We will get an idea about every minor detail that could be hindering the search performance and SERP rankings. Let's begin with the process.  Here are the tools we will be using during the audit process.
Google Analytics
Google Search Console
Google PageSpeed Insights
Google's Structured Data Testing Tool(Ahrefs/ Screaming Frog, Copyscape)
Not all of them are essential, but they will help make it easier. Ahref is trusted by marketers from the world's biggest brands. We use Ahrefs and screaming frog both for performing site audits. 
Check for Issues Holding Your Site Back for Website SEO
Now that you know which tools are required to perform site audits, get all of these open, and you are good to go. In another tab, open your website, client's website, or whichever you want to use.
So now, let's get to it.
The first thing you need to do is check only one version of the site is browsable. So right now, we are viewing the website, www.softstings.com.

But, we need to ensure that this is the only location where we can access this website. So all of the site versions should redirect to this version, which we call the canonical.
So, we begin with all the different versions that someone could type in are redirected to the canonical version of the website.

In the case of Soft stings (reference website), everything looks fine.

In the case of soft stings, everything looks fine.
The suitable methodology to begin with site audit is to see a different version of the site redirect to the canonical version. Now, what is the canonical version?
So moving on, you need to crawl the actual website to check for any other issues. You may need to check several parameters, ranging from response codes, page titles, Meta descriptions, site structure, and all the way to duplicate details.
Check Google for Indexation Issues
Using the site audit tool, observe if there is a slight discrepancy in the number of pages being indexed compared to the total number of pages shown on the website. A few individual elements need to be fixed from the home page. At this point, you can also check if the brand ranks on the search engine for its brand name.
Perform Some Basic On-Page SEO Checks
We're just going to have a quick check on some basic on-page SEO here on the website of soft stings. For reference, check some of the most appropriate title tags not truncated by Google.
To make things easy, we'll have to see some significant on-page factors that are important. Does the page have a well-crafted, clickable title tag? Is there a custom meta-description with a keyword mentioned in it?
The truth is, it should be interesting enough to be optimized for maximizing click-through?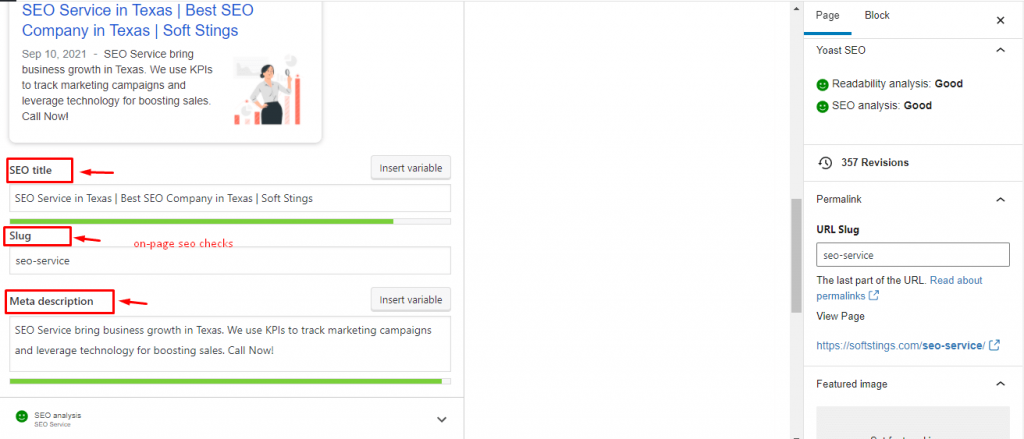 Is there only one instance of the H1 tag? Is it well-optimized? Are subheaders (H2, H3, etc.) being used correctly?
Optimize the Home Page of the Website
Here is the current H1 tag: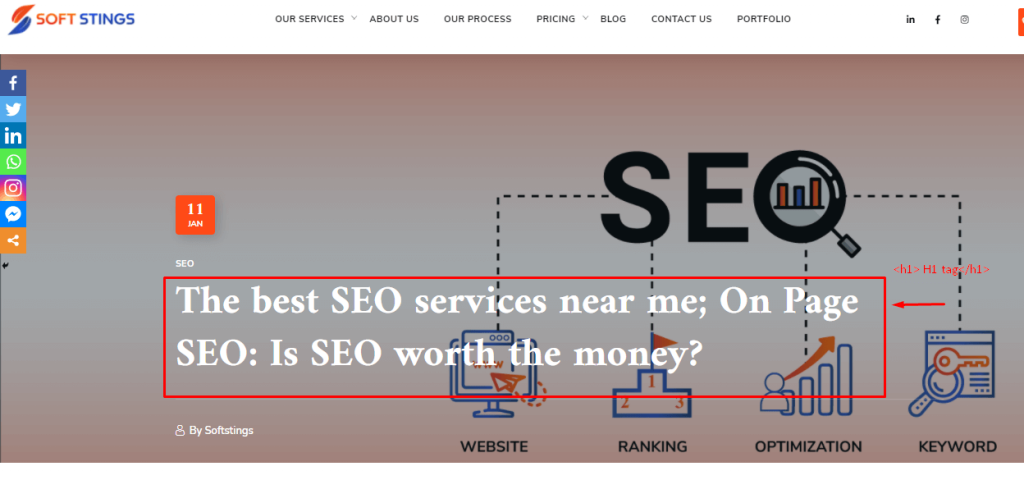 Great. It looks like we've incorporated KEYWORD  "SEO service near me" into H1-tag too.
But what about the sub-headers?
Subheaders should be used logically to break up each page's content. They make the reading more skimmable and easy for the visitor to understand the gist of the page.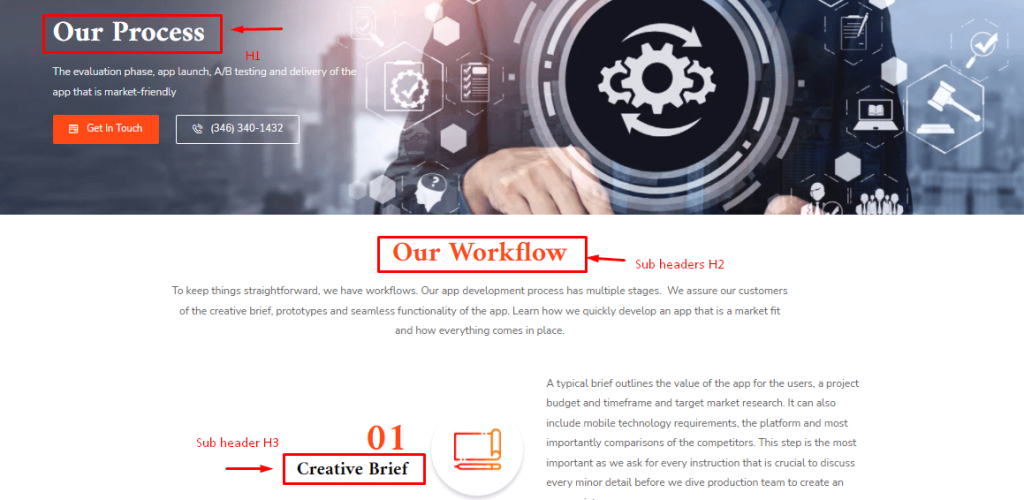 When used strategically, you can implement these
(H2, H3, H4, H5 & H6)

with a great opportunity to target secondary keywords/phrases from on page SEO point of view.
Next, you need to optimize the site for keywords for link building activities:
Essentially, you're looking to organically show up at the top of Google, Bing, and Yahoo's rankings — meaning you earn the spot rather than buy it.
Pillar Post for Clustering with Pages
At least 1000 words long, it should be valuable enough to be shared multiple times, has fantastic illustrations, and should be super well-written. Curate a masterpiece.
So, if you want your post to get organic traffic, you need to write it around a proven SEO framework. What is that framework? It looks something like this:
Find a proven topic
Analyze search intent
Make your content visually appealing
Write a compelling title and description
Upload your post
Content Audit & Gap Analysis
Understand the queries. See how best-performing web pages are using those queries to leverage the traffic. So, before you settle on a topic, always look at the estimated traffic to the top-ranking page to get a better sense of true traffic potential.
Search engines like Google have invested billions of dollars into understanding the true intent behind searches. This is how they can return relevant results—even for vague queries.
If you're writing SEO content, this is important to see the top-performing pages on SERP, keywords they are using because if it doesn't align with search intent, your chances of ranking are not higher.

This is how we performed the content gap analysis for our website. This is what the Ahrefs data show us.
Understand Content type
Performing the competitor analysis to see what content type gets most of the traffic on most searched queries. This is how you can boost your Google Rankings.
To do that, you need to see are the top-ranking blog posts, product pages, category pages, landing pages, or something else?
Then comes the content format. What type of posts rank? Are they how-to's, list-style posts, opinion pieces, news articles, something else?
Backlink Analysis
Site Audit > New Project > Paste domain in the 'Scope & seeds' section > Uncheck any 301 redirects.
A non-www version of your domain. You'll get the most complete backlink profile and accurate tracking data this way.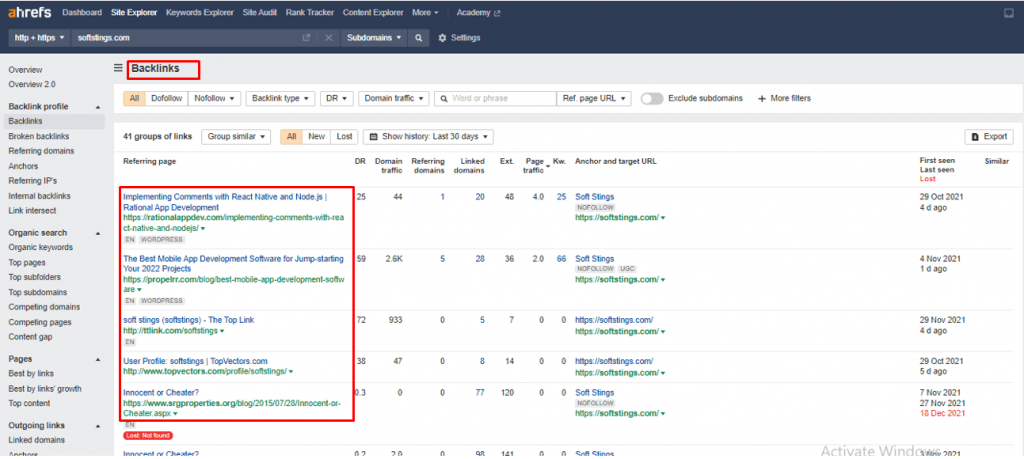 You can observe the project history to see the site health and finally, let's view traffic by week. Observe any noticeable spikes or dips in traffic.
URLs Crawled
URLs are having issues indicated with red. Similarly, URLs do not have problems marked with green.

Health Score reflects the proportion of internal URLs crawled by Site Audit with errors. It is a metric that has to be examined within context as it depends on:
The number of internal URLs with errors and
The total number of internal URLs crawled
We'll delve a bit deeper into the site's referring domains. Simultaneously, we're just looking to see if anything sticks out as suspicious, or low-quality.
Managing the brand reputation
Encouraging consumers to review your company. Now at this point, you might be interested in knowing. Do Google reviews help SEO?
To answer that, here is a quick consideration for you.
Reviews are an easy way to expand your brand's reach. When people have good things to say, they are more likely to share their reviews on more sites, including external websites like Yelp and FourSquare. 
Conclusion
Looking for local seo services near me? The site audit helps to analyze the organic search traffic. Likewise, using Google analytics, you can observe the number of visitors to see which pages are bringing the most traffic. 
Free Assessment For Site Audit
Our team checks for Issues holding your site back. Uncover easy-to-fix on-site problems. Analyze organic search traffic and perform backlink analysis and content audit & "content gap" analysis.
You can also see traffic by week and a significant drop in traffic indicative of the Google penalty.
If you are interested in SEO audit for your site, contact us to discuss what is a SEO campaign? We will also discuss SEO strategy and more information to cover on page SEO best practices. 
We can help you if you are looking for PPC services near me. What's included in our consultation call?
Access to expert SEO people with the most trusted SEO data. Online support from our help team for discovery calls. Seek advice & engage with industry experts with demonstrated history to perform SEO audits particularly with local SEO services near me.
Find SEO services near me? Talk to us for conversion rate optimization services, website content and WordPress website development.